Posts for: January, 2018
By John A. Pagliei, Jr., DMD
January 16, 2018
When they're introducing a new movie, actors often take a moment to pay tribute to the people who helped make it happen — like, you know, their dentists. At least that's what Charlize Theron did at the premiere of her new spy thriller, Atomic Blonde.
"I just want to take a quick moment to thank my dentists," she told a Los Angeles audience as they waited for the film to roll. "I don't even know if they're here, but I just want to say thank you."
Why did the starring actress/producer give a shout-out to her dental team? It seems she trained and fought so hard in the action sequences that she actually cracked two teeth!
"I had severe tooth pain, which I never had in my entire life," Theron told an interviewer from Variety. At first, she thought it was a cavity — but later, she found out it was more serious: One tooth needed a root canal, and the other had to be extracted and replaced with a dental implant — but first, a bone grafting procedure was needed. "I had to put a donor bone in [the jaw] to heal," she noted, "and then I had another surgery to put a metal screw in there."
Although it might sound like the kind of treatment only an action hero would need, bone grafting is now a routine part of many dental implant procedures. The reason is that without a sufficient volume of good-quality bone, implant placement is difficult or impossible. That's because the screw-like implant must be firmly joined with the jawbone, so it can support the replacement tooth.
Fortunately, dentists have a way to help your body build new bone: A relatively small amount of bone material can be placed in the missing tooth's socket in a procedure called bone grafting. This may come from your own body or, more likely, it may be processed bone material from a laboratory. The donor material can be from a human, animal or synthetic source, but because of stringent processing techniques, the material is safe for human use. Once it is put in place your body takes over, using the grafted material as a scaffold on which to build new bone cells. If jawbone volume is insufficient for implants, it can often be restored to a viable point in a few months.
Better yet, when grafting material is placed in the tooth socket immediately after extraction, it can keep most of the bone loss from occurring in the first place, enabling an implant to be placed as soon as possible — even before the end of a movie's shooting schedule.
Will Atomic Blonde prove to be an action-movie classic? Only time will tell. But one thing's for sure: When Charlize Theron walks down the red carpet, she won't have to worry about a gap in her smile.
If you have questions about bone grafting or dental implants, please contact our office or schedule a consultation. You can read more in the Dear Doctor magazine articles "Dental Implant Surgery" and "Immediate Dental Implant."
By John A. Pagliei, Jr., DMD
January 01, 2018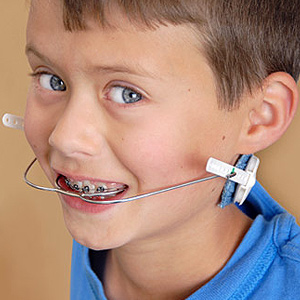 Most of us are quite familiar with what traditional braces look like. But occasionally we see more complex-looking devices being worn by young orthodontic patients: thicker wires that extend outside the mouth, with straps that may go behind the neck or over the chin. What are these devices, and why are they sometimes needed?
In general, orthodontic appliances with external parts braced by the head, neck or chin are referred to as "headgear." These devices may be used to handle a number of particular orthodontic situations, but they all have one thing in common: They provide the additional anchorage needed to move teeth into better positions.
It may come as a surprise that teeth, which seem so solid, can actually be moved fairly easily over time. This is because teeth are not fixed directly into bone, but are instead held in place by a hammock-like structure called the periodontal ligament. Using a light, controlled force — such as the force of springy wires and elastics in traditional braces — teeth can be moved slowly through the jaw bone, like a stick being pulled through sand.
Of course, to pull a stick through sand, you need a firm anchorage — your legs, for example, bracing against a rock. Most of the time, the back teeth, with their large, multiple roots, provide plenty of support. But sometimes, the back teeth alone aren't enough to do the job.
If a very large space between teeth is being closed, for example, the back teeth might be pulled forward as the front teeth are pulled back; this could result in poor alignment and bite problems. In other cases, the front teeth may need to be pulled forward instead of back. The back teeth can't help here; this is a job for headgear.
Some types of headgear have a strap that goes behind the head or neck; they use the entire head as an anchorage. Other types, called "reverse pull" headgear, have a strap that comes over the chin or the forehead; they can pull teeth forward. Headgear can even influence the proper growth of facial structures — that's why it is usually seen on preteens, whose growth isn't yet complete.
Headgear is usually worn for 12 hours per day, for a limited period of time. In some cases, rather than headgear, appliances called "temporary anchorage devices" (TADS) may be recommended. These are tiny screws that are implanted into the jawbone in a minimally invasive procedure, and serve a similar function.
While it may not look pretty, orthodontic headgear is capable of moving teeth into their proper positions in a relatively short period of time — and ending up with a great-looking smile is what orthodontics is all about.
If you have questions about orthodontic headgear, please call our office to schedule a consultation. You can read more in the Dear Doctor magazine article "Moving Teeth With Orthodontics."