Posts for: November, 2017
By John A. Pagliei, Jr., DMD
November 24, 2017
As a member of the best-selling pop group Spice Girls, Mel C (AKA Sporty Spice) enjoyed her share of musical superstardom. At the band's peak in the Nineties, the young singer's signature look featured baggy sweatpants, an assortment of tattoos, a nose stud and a gold-capped incisor, front and center in her mouth. Today, Melanie Chisholm is still singing — but now she's a mom, an amateur triathlete… and that gold tooth is just a memory. Not only that, her smile looks more evenly spaced and whiter than it did when she was referred to as the "tomboy" of the group.
What happened? In our view, it all boils down to changing tastes — plus a little bit of help from dental professionals. As the "wannabe" singer proves, there's no single standard when it comes to making your teeth look their best. Your own look is unique to you — and your smile can reflect that individuality.
For example, crowns (caps) are substantial coverings that may be placed on teeth when they are being restored. They are available in three types: gold, all-porcelain, or porcelain-fused-to-metal. The latter two are tooth-colored, while the gold is — well, shiny like gold bling. Which one is right for you? In many cases, it's your choice.
Likewise, dental veneers — wafer-thin shells that can correct cosmetic issues by covering the surface of your teeth — can be made in a variety of shades. Their hues may range from natural ivory to Hollywood white, and everything in between. What's the best color for you? Only you can say.
Some people opt for a "smile makeover" that uses small irregularities in the spacing and color of teeth to create a more "natural" look. Other folks want a perfectly even, brilliant white smile that dazzles the eye. Still others are looking to match or restore the smile they once had — perhaps even re-creating a signature gap between the teeth. As long as there are no other dental issues involved, the choice is yours.
So if you're unhappy with your smile — or if you feel it doesn't reflect the person you "wannabe" — why not talk to us about a smile makeover? Just call our office to schedule a consultation. You can learn more about this topic in the Dear Doctor magazine articles "Beautiful Smiles by Design" and "The Impact of a Smile Makeover."
By John A. Pagliei, Jr., DMD
November 09, 2017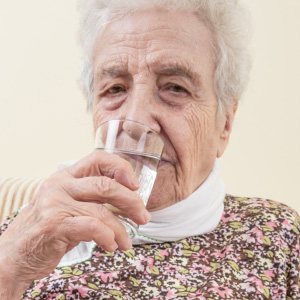 If you were asked to identify the number one mouth problem affecting dental health, what would you name? Toothaches? Poor hygiene? Jaw joint issues?
Believe it or not, the top issue among 15,000 respondents in a recent American Dental Association (ADA) survey was dry mouth. A full one-third of the respondents had experienced chronic lack of normal saliva flow; difficulty biting and tooth pain, took second and third place, respectively.
We've all experienced the discomfort of temporary dry mouth when we first wake up in the morning or after eating certain foods. But chronic dry mouth is much more serious with long-term effects on a person's teeth and gum health. This is because among its other important properties, saliva helps neutralize enamel-softening mouth acid and restores minerals to enamel after acid contact. Without sufficient saliva flow you're much more susceptible to dental disease.
While there are several causes for dry mouth, perhaps the most common is as a side effect to at least five hundred known medications. Because older people tend to take more medications than other age groups, dry mouth is an acute problem among people over 60 (a major factor for why dry mouth took the survey's top health problem spot).
You can help ease dry mouth from medications by first asking your doctor about switching to alternative medications that don't affect saliva production. If not, be sure to drink more water during the day and especially when you take your oral medication (a few sips before and after).
You can help your dry mouth symptoms from any cause by drinking more water, limiting your consumption of alcohol or caffeine, and avoiding tobacco products. You can also use substances that stimulate saliva flow—a common one is xylitol, an alcohol-based sugar that's used as a sweetener in certain gums and candies. Not only does xylitol boost saliva flow it also inhibits the growth of bacteria and thus decreases your risk of disease.
And speaking of reducing bacteria and their effects, don't neglect daily brushing and flossing. These habits, along with regular dental cleanings and checkups, will benefit you just as much as your efforts to reduce dry mouth in avoiding dental disease.
If you would like more information on treating common problems with teeth and gums, please contact us or schedule an appointment for a consultation.